Details
The NB16-T is a 1/16th nitro car with a big powerful punch. Small enough for back yard racing but powerful enough to outrun a lot of full scale models! All the features and more that you would expect from a full size nitro car have been squeezed into this little monster truck. The result is a serious bit of kit for major back garden fun.
Mini nitro models have been very popular since Acme released the world's first mini nitro car in 2006 because unlike the original sized models you do not need a field or track to race them on. If you want a model that you can race both seriously at tracks but also have some fun with at home then this is the model to go for.
The NB16-T nitro car comes fully built with transmitter included.
The model comes with a 2.4GHz controller. These have many advantages over AM/FM transmitters:
Improved reliability due to less interference at this frequency range
Quicker more responsive control
Lower power consumption
Many models can drive together at once without need for checking frequencies and crystals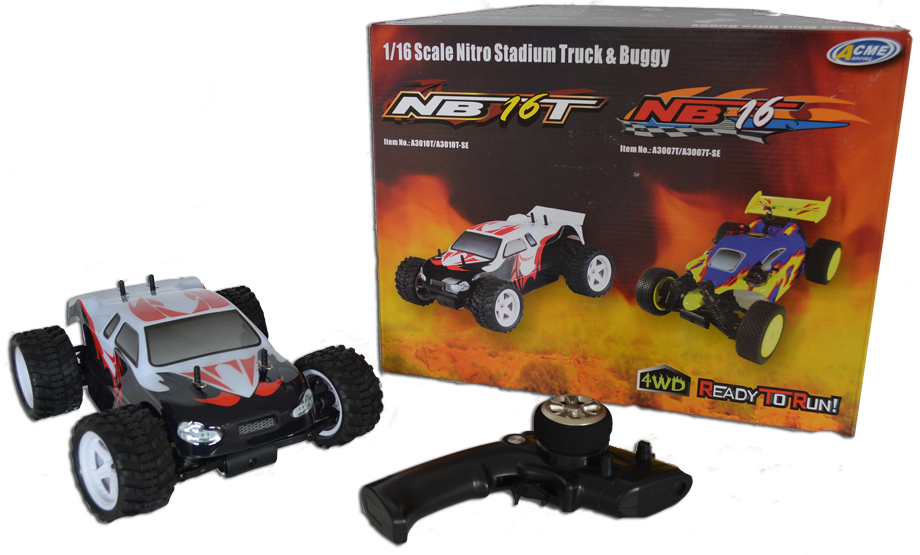 SOLID ALUMINIUM CHASSIS
A sturdy aluminium chassis featuring counter sunk screws that will protect your model from any rocky or bumpy terrain damage.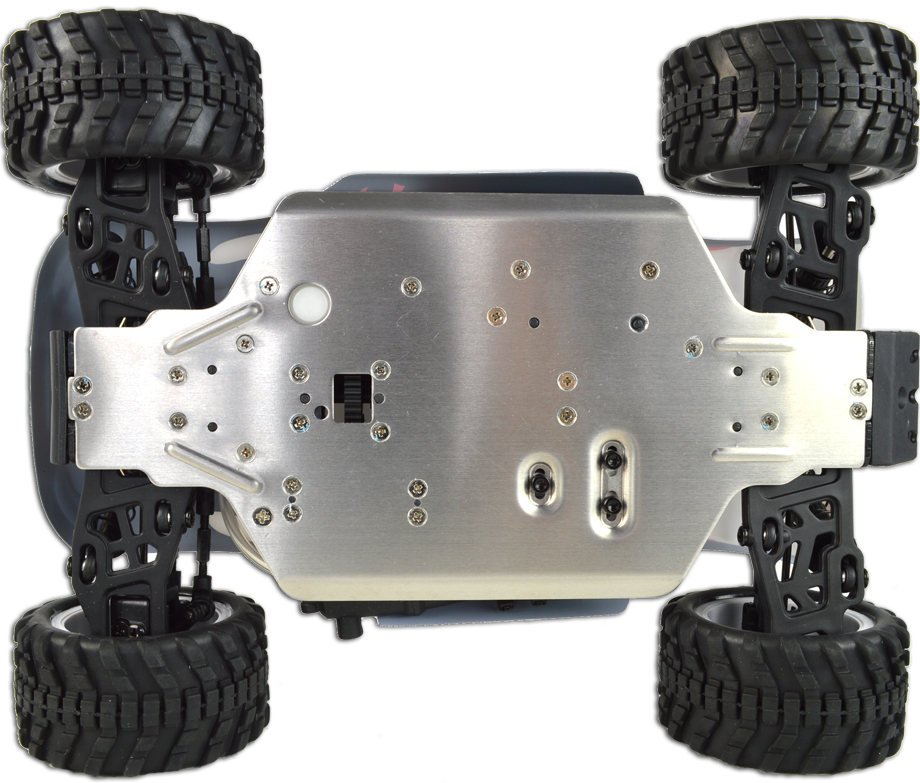 1:16 SCALE
This truck measures 297mm x 108mm x 208mm (length, height, width)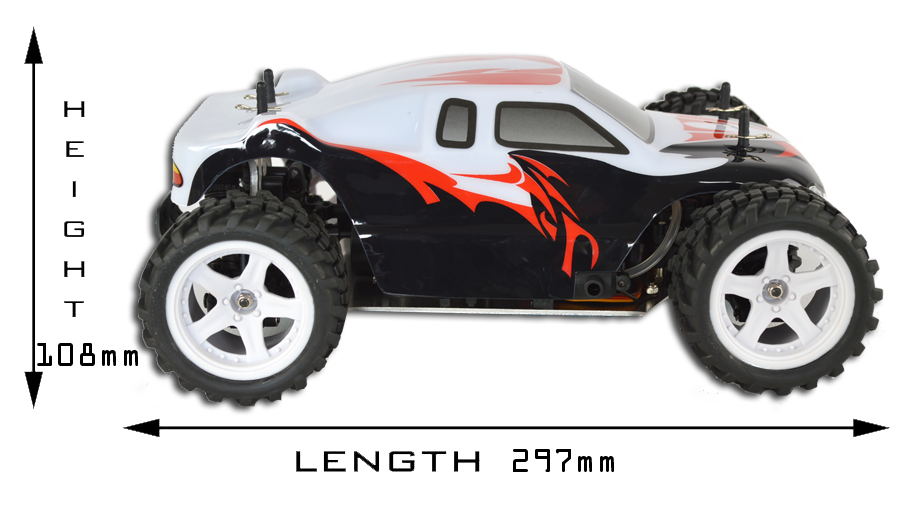 DISC BRAKE SYSTEM
Drilled disc brake gives ultimate stopping power at high speeds.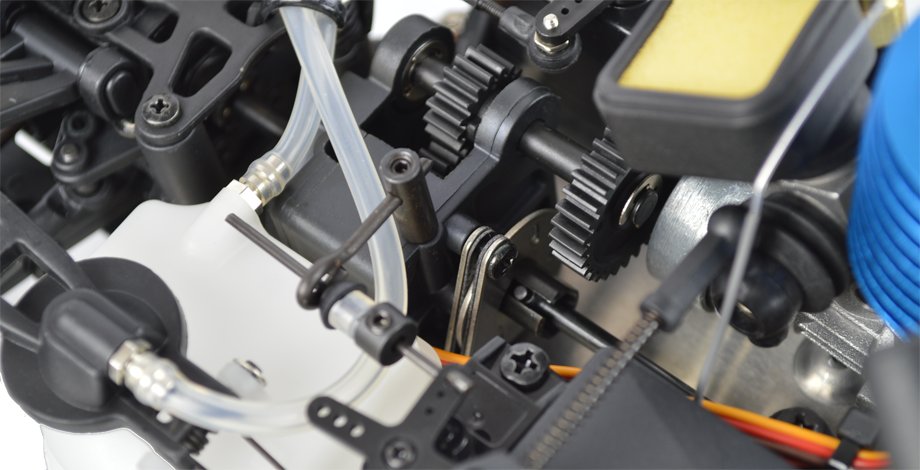 HIGH QUALITY SH .07 NITRO ENGINE
Small enough for back yard racing but powerful enough to outrun a lot of bigger models.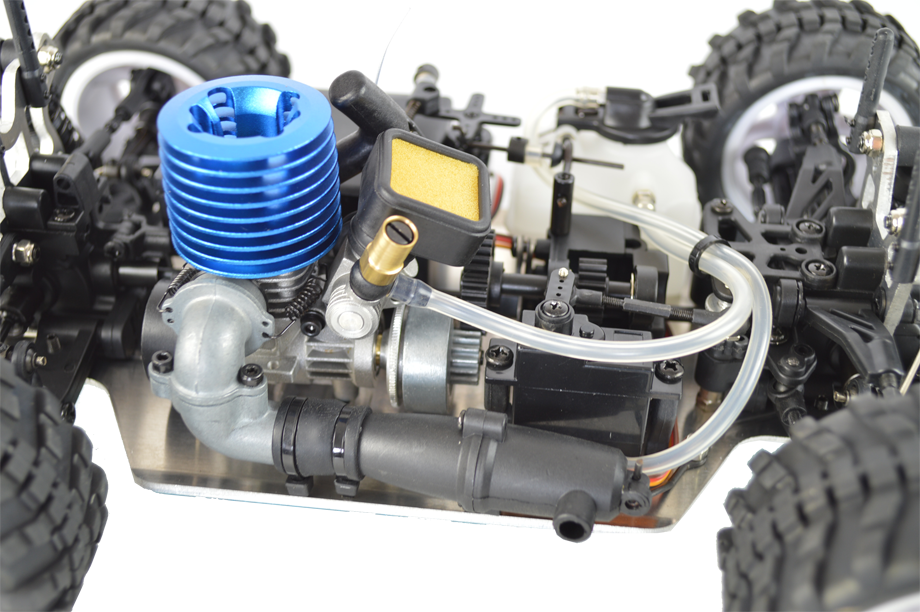 SEALED RADIO BOX PROTECTS ELECTRONICS
Helps keep the electronics protected against dust and water.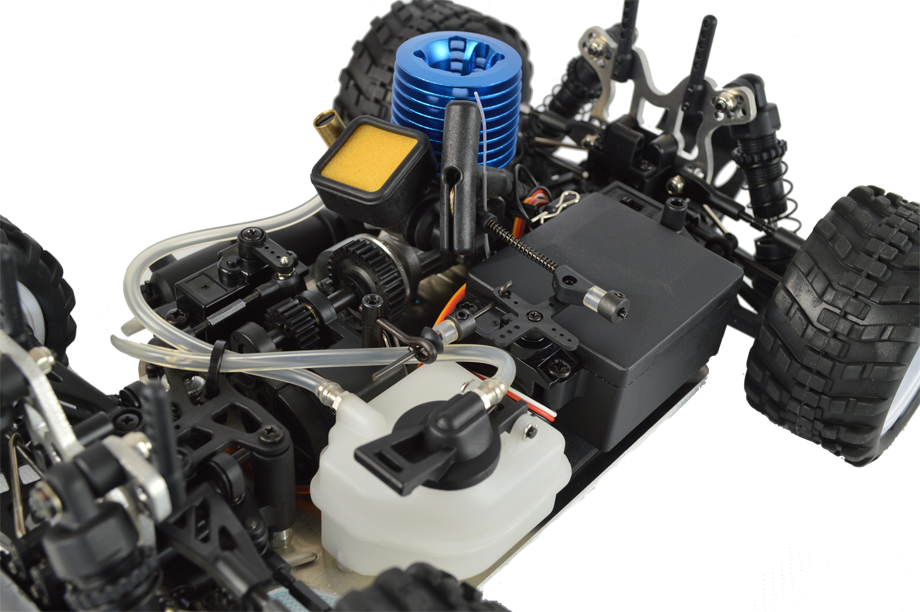 4WD WITH FRONT AND REAR DIFFERENTIALS
The four wheel drive improves grip when cornering. The power is transferred to the wheels via front and rear differentials that further improve handling.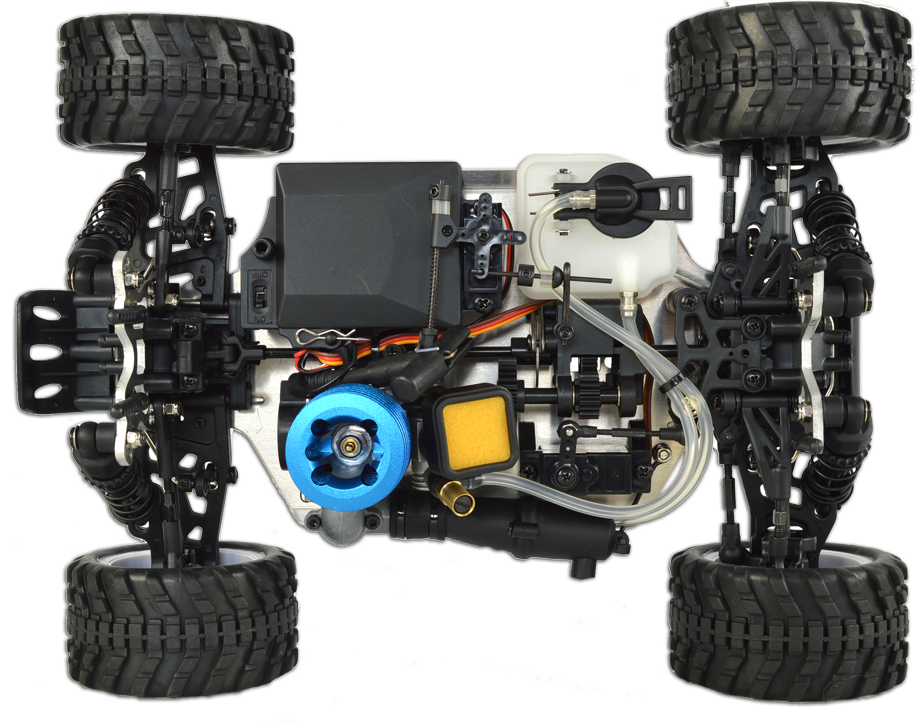 ALUMINIUM SHOCK MOUNTS WITH SWAY BARS
The angle and tension of the oil filled shocks is adjustable. Sway bars are fitted as standard that further improve handling.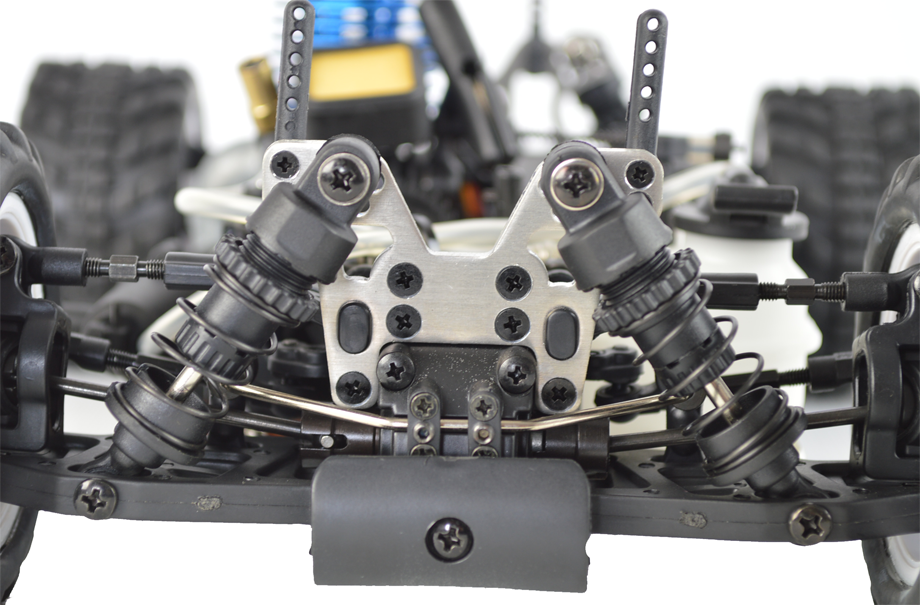 Additional Information
SKU
A3010T
Manufacturer
Acme-Tech
Model Scale
1:16
Build
RTR
Drive
4WD
For Terrain
Off Road
Radio Equipment
2.4 GHz
Type
Truggy
Motor / Engine
.07 Nitro
Specifications

Width: 208MM
Height: 108MM
Track: 208MM
Length: 297MM
Wheel base: 191MM
Gear ratio: 11.2:1
Engine: SH 07 Size
Radio: 2.4GHz (Multiple users in same area ok)
Wheel dia.: 73x39.5MM
Ground clearance (F/R): 19MM
Chassis: 2mm-thick hard anodized alum.
Drive: Four wheel shaft drive
Fuel Tank: 38cc
Ball Bearings: Full set
Shocks: Four oil filled shocks
Shock towers: Anodized aluminum
Clutch Bell: Steel
Differentials: Bevel gear type
Brakes: Metal disc brake
Clutch shoes: 2 shoe race spec
Exhaust: Alloy manifold and tuned plastic pipe
Caster: Adjustable
Camber: Adjustable
Body: Pre-painted
Build : Fully built

Features

1/16 Scale mini nitro powered truggy
High quality SH .07 engine
Thick aluminium shock mounts
Solid steel drive cups
2 piece racing clutch
Disc brake system gives ultimate stopping power
Sealed radio box protects electronics
C-hub front and rear suspension
Front and rear differentials
Fully ball raced
Metal manifold
High torque mini servos
Fully assembled
Alum. upgrades available
Front and rear anti roll bars fitted as standard

Required To Use

8 x AAA Batteries
Model Fuel
Glowstarter
Questions:
Posted by
, Friday, 17 February 2017 on
Question:
Hi what glow plug should be in a acme nb16t? There is an R3 in it since I bought it used but it never run I want to replace it but I before I get a new one I want to make sure it's the correct plug?? Thanks
Answers:
Posted by

on Friday, 17 February 2017

Hi, Thank you for your question. You can find a glow plug for your engine, here on the site: http://www.nitrotek.co.uk/spare-parts/engine-parts/universal-engine-parts/spare-team-infinity-glow-plug.html
You might also like...
SALE

SALE
28 customer reviews
Fantastic but...

jamez 94 January 15, 2014

By

this car is absolutely fantastic and is very fast. i have had no problems wiv this little beuty. i hav run my in and litually it took 2 pulls of the pullstart and it fired away. such a gr8 truggy. very fast when you tune it aswell :) one thing though. this car isn't a strong little thing. but gr8. would recomend u buy it.

very nice

nitroman December 27, 2013

By

its a nice truggy but it could have been better

nb16 nitro

gary6277 December 19, 2013

By

This is my first nitro car, very excited when i got i was like a big kid.
I had trouble starting but with help of internet etc i got it started i know cant stop touching it as i am doing the running in process first tank before i can drive it. Once i have done the first tanks i will be away.
The only bit i had trouble with was getting the aerial into the tube .

good

tractor man November 07, 2013

By

iv had my truggy for about half a year and it is great and would recommend it to any beginner THANKS nitrotek

very good

nick July 31, 2013

By

I've had one for a couple of years now, and a while back upgraded to an 1/5th petrol model. today got this going again while waiting for parts for the 1/5th, and after a an hour or so cleaning it up with mr musle to get rid of all the old castor oil, it started after a couple of pulls. Quite a study little car, and only had to buy a new pull start as i down through a deep puddle and flooded the engine with water, then like a fool, tried to start it resulting in a wreck putstart. Would recommend it to anyone as is so small and quick, and can put to shame larger models.
© 2004-2020 Nitrotek Ltd. All Rights Reserved. Radio controlled nitro cars, offering petrol RC car, RC planes, RC tanks and remote control RC helicopter remote controlled cars selection.