Details
This is a high spec model that not only is high quality, but is also highly upgradeable. This model is not to be confused with the entry level remote controlled cars, this is a proper RC hobby racing machine! These models are kitted out with 2.4Ghz wheel type controllers that means many models can be raced in the same area without interference. Fitted with Aluminium centre drive shaft, high spec waterproof electronic speed controller, twin aluminium capped oil filled shocks on each wheel, performance front and rear differentials, aluminium radio tray and much more, the monster truck is in a league of its own.
As standard the monster truck comes with a high precision 550 motor, HSP waterproof speed controller and 7.2V 2000mah Tamiya type battery pack.
This special edition R-SPEC comes with a range of special colour-coded parts and shell exclusive to the R-SPEC as follows:
Green front shocks
Green rear shocks
R-SPEC shell
Green upper deck
Green central drive shaft
Green front lower suspension arms
Green rear lower suspension arms
Green front bumper
Green rear bumper
Green front suspension linkage
Green rear suspension linkage
Green motor heat sink
1:10 SCALE MODEL
This 1:10 scale truck measures in at 400mm x 300mm x 160mm (length, width, height)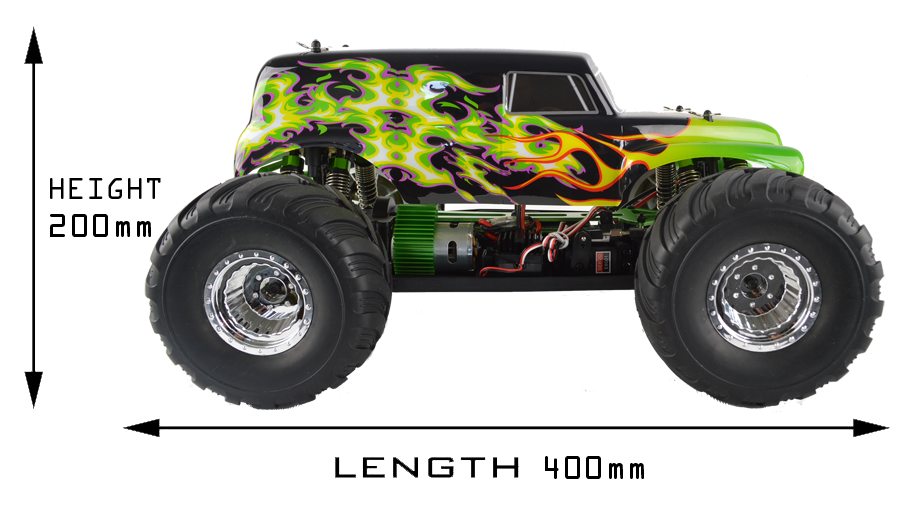 WATERPROOF SERVO, ESC & RECEIVER
This model has a waterproof servo, ESC and receiver to help protect the model if you hit a puddle or are racing on a wet track.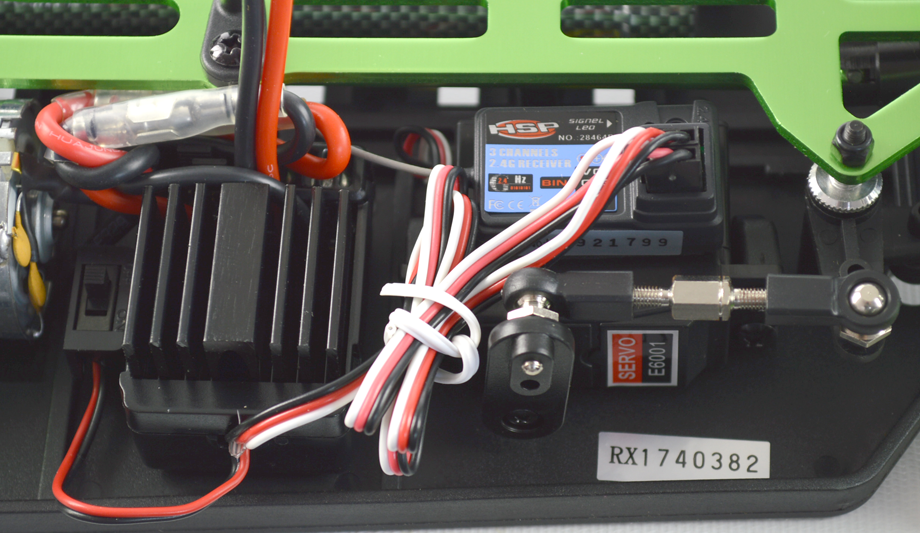 POWERFUL RC540 MOTOR WITH ANODIZED ALUMINIUM HEAT SINK
A fast RC540 motor with aluminium heat sink to keep it cool and operating at its peak. The motor is connected to an electronic speed control that gives full proportional speed both in forward and reverse.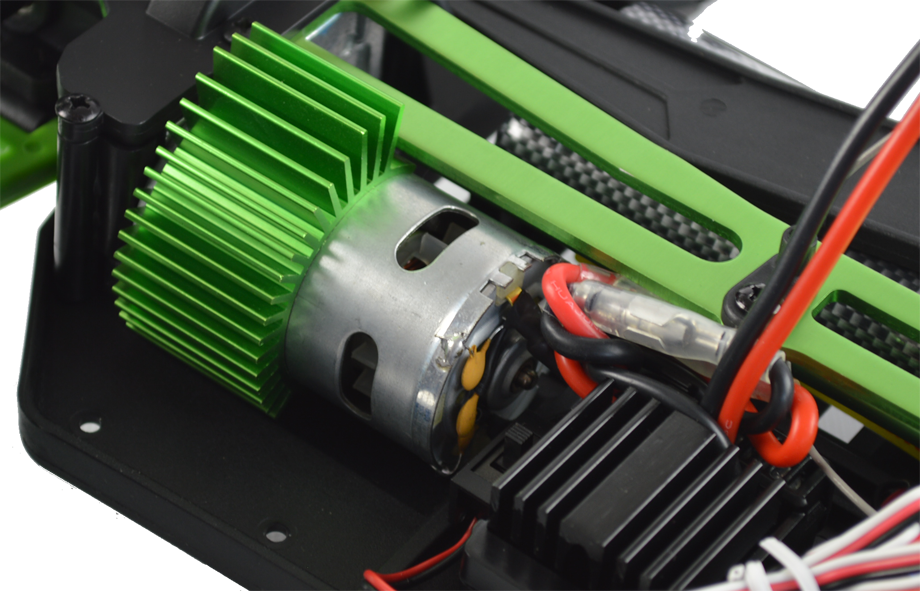 TWIN OIL FILLED SHOCKS
The angle of the aluminium capped shocks can be adjusted to suit your driving preference and terrain. They are mounted using ball joints to give a little flexibility. Each wheel has two shocks to give the extra suspension needed on a monster truck.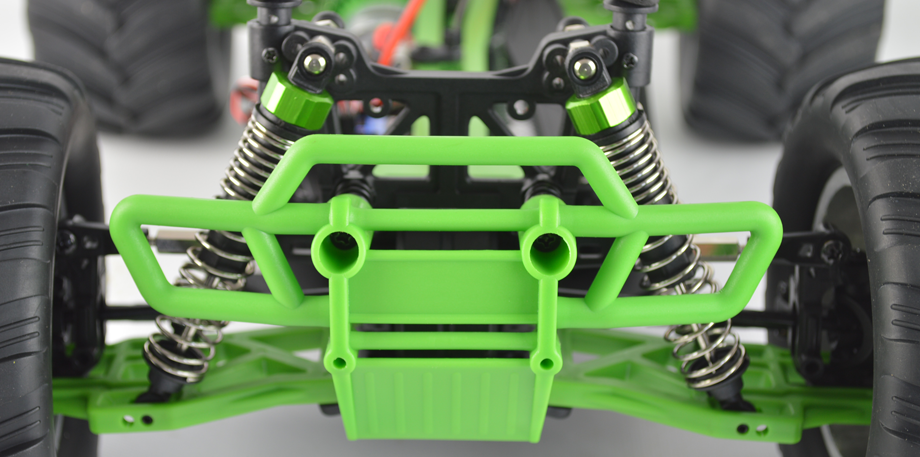 ALUMINIUM CENTRAL DRIVE SHAFT
This model comes with a strong aluminium central drive shaft that transfers the power from the rear to the front for the 4WD system.


ANTI-SKID TYRES
Specially treaded tyres give lots of grip off road and good speed on road.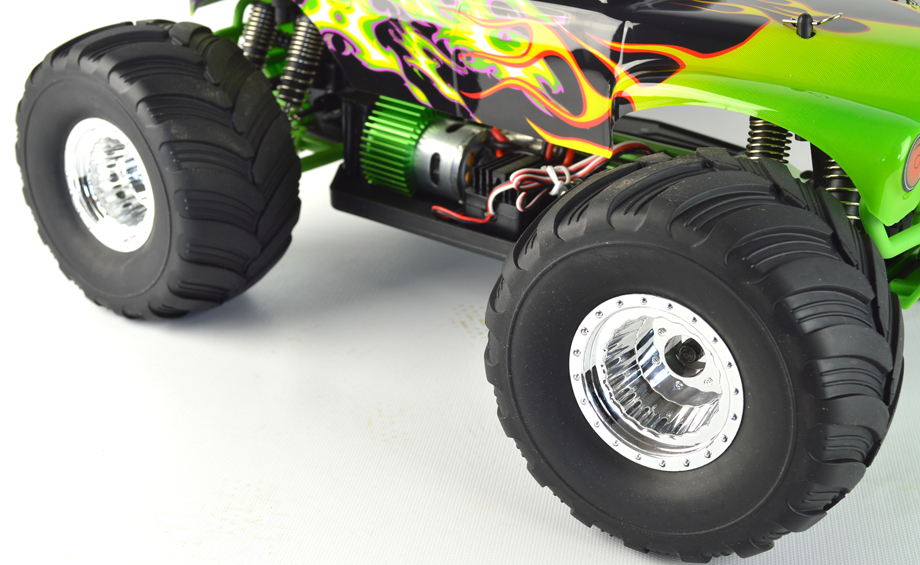 4 WHEEL DRIVE WITH DIFFERENTIALS
This model has a 4 wheel drive system for better performance off road and also improved grip when cornering. The truck also features working front and rear differentials that further greatly improve handling and performance.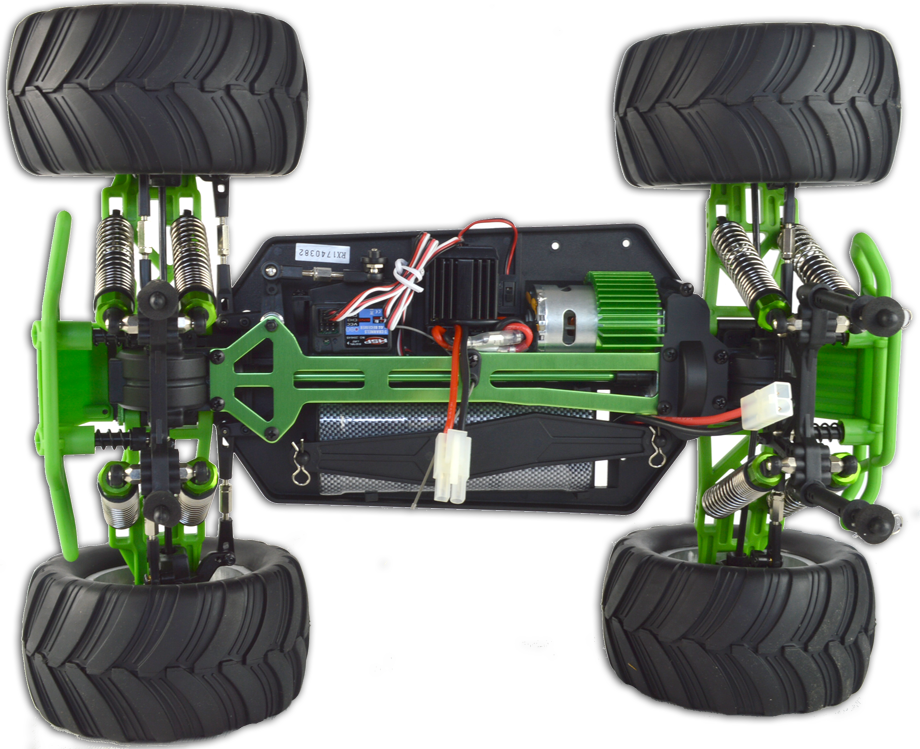 ALL NEW 2.4GHz RADIO TRANSMITTER
All new 2.4GHz radio technology is used. This is more reliable than the old FM equipment and allows mulitiple RC cars to be used in the same area without interference.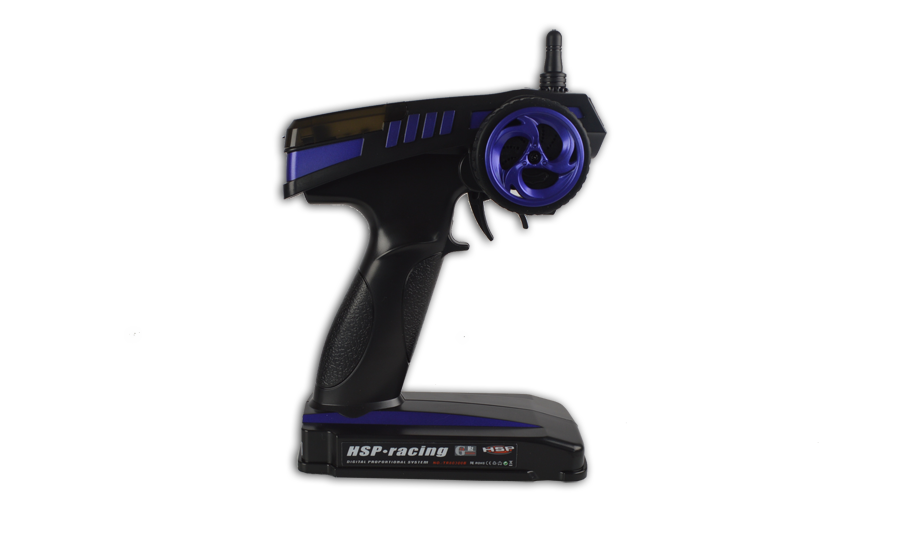 SPRING LOADED FRONT AND REAR BUMPERS
This model comes fitted with spring loaded front and back bumpers that can will help to avoid damage in a crash.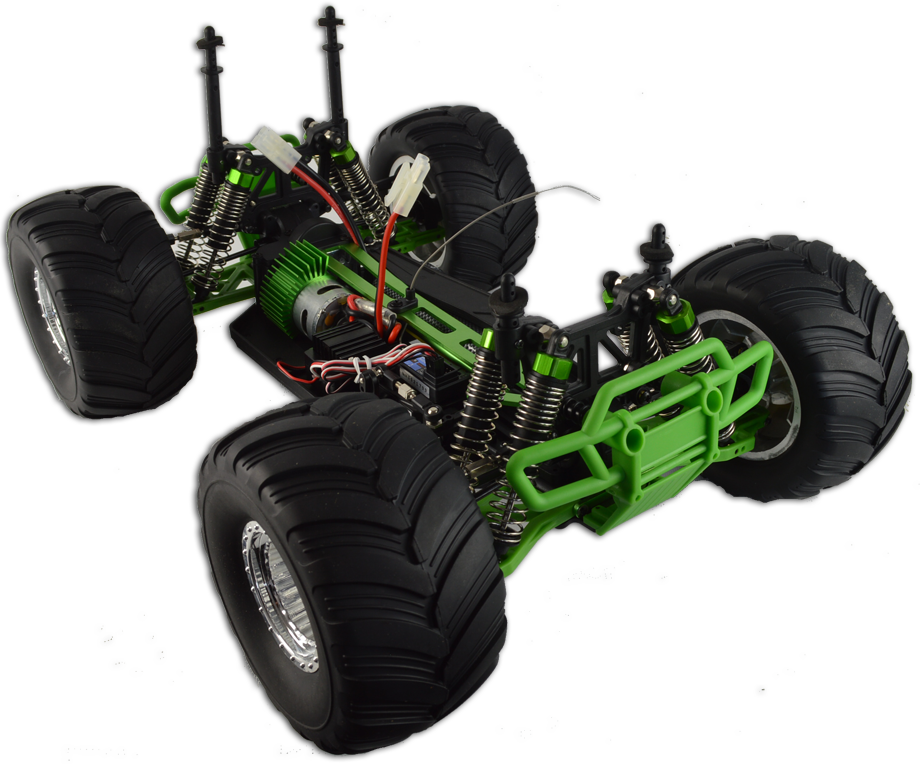 Additional Information
SKU
H94111-RS-GREEN
Manufacturer
HiSpeed
Model Scale
1:10
Build
RTR
Drive
4WD
For Terrain
Off Road
Radio Equipment
2.4 GHz
Type
Monster Truck
Motor / Engine
Brushed
Specifications

Longueur: 400mm
Largeur: 320mm
Hauteur: 200mm
Garde au sol: 40mm
Pneus: largeur 70mm
Moteur: RC 550
Batterie: Fullymax 7.2V 2000mAh Ni-MH
Équipement radio: 2,4 GHz

Features

Édition spéciale R-Spec avec pièces à code de couleurs et coque exclusive
Servo, ESC et récepteur étanches
Arbre de transmission central en aluminium
Système de moteur puissant 550
Grandes tours à choc solide
Diffs avant et arrière hautes performances
Suspension puissante avec deux amortisseurs sur chaque roue
Huit amortisseurs à capot en aluminium à bain d'huile
Pneus antidérapants et jantes chromées
Pare-chocs résistant à ressort
Le système radio 2,4 GHz permet d'utiliser plusieurs modèles dans la même zone

Required To Use

8 x AA Batteries for radio handset
Questions:
There are no product questions yet.
Be the first to review this product
© 2004-2019 Nitrotek Ltd. All Rights Reserved. Radio controlled nitro cars, offering petrol RC car, RC planes, RC tanks and remote control RC helicopter remote controlled cars selection.