Details
There is only one way to best describe this brushless RC car and that is extreme speed. The Fire Wolf will run at over 40mph out of the box! This is all thanks to the brushless motor and high power 11.1v Li-Polymer battery pack.
The special motor in this model is much quicker than the motors found in other models. Because it is brushless it also means the motor needs no maintenance and can handle a lot more power being pumped into it. So to take full advantage of that the standard 7.2v Ni-Cd batteries that are found in most RC car kits has been replaced with a very powerful 11.1v lithium battery along with a balanced lithium battery charger which is needed for these special batteries.
With this massive amount of power it is important that the model can handle the speed and pressure that is produced so many of the parts have been made stronger like you would find in a nitro RC car. An aluminium chassis, high torque servo, aluminium drive shaft and extra thick oil filled shocks, along with a mixture of metal and plastics mean it has a better chance of surviving a high speed impact, although it is not indestructible.
The brushless RC car comes fully built with everything you need to get racing apart from eight normal AA batteries for the radio handset. We have not been this excited about a new model for a long time and you will know why when you hit the throttle for the first time and see it pop a little wheelie before taking off at such a crazy speed. Highly recommended.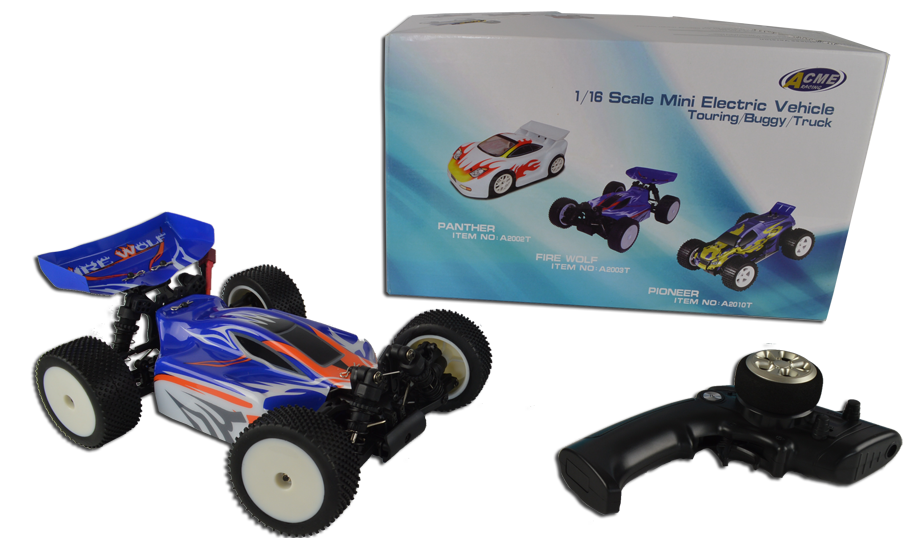 WIDE COUNTERSUNK ALUMINIUM CHASSIS
The wide aluminium chassis protects the insides and features countersunk screws that will protect your model from any rocky or bumpy terrain damage.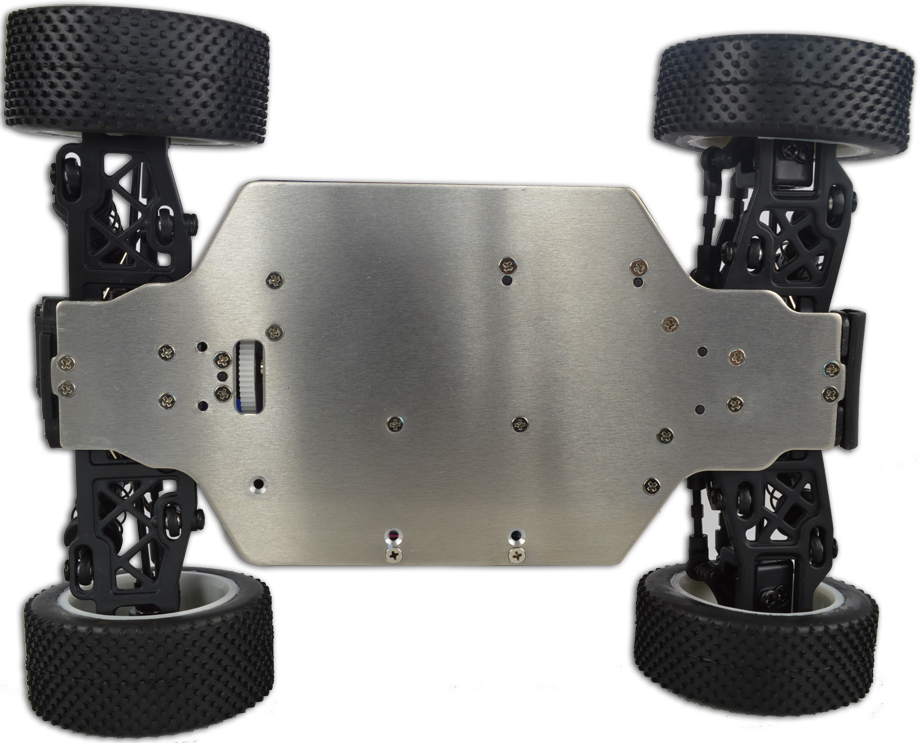 11.1v Li-po Battery
Includes a powerful lithium polymer battery pack that enables the car to run at over 40mph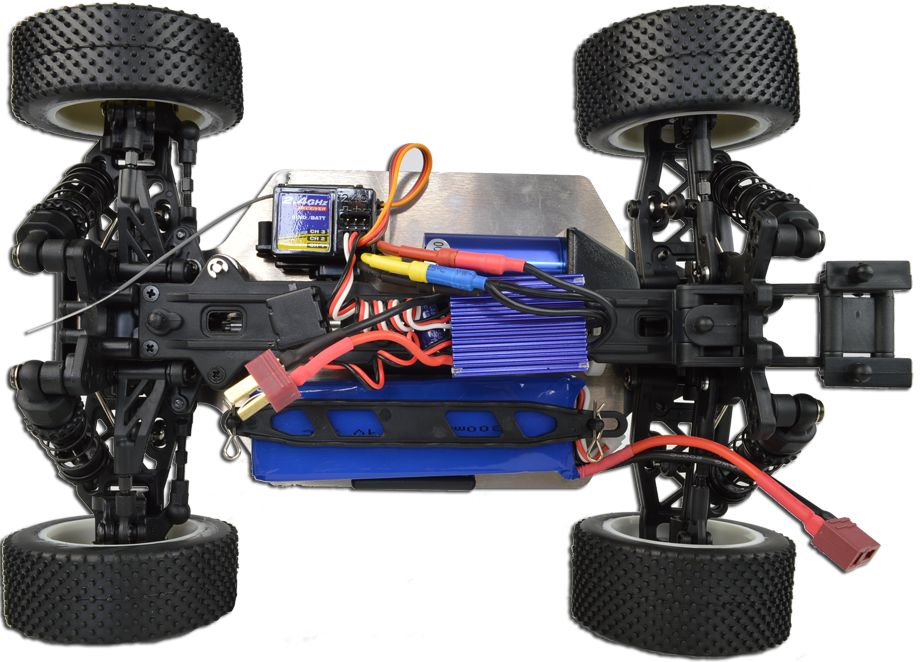 1/16th SCALE
This buggy measures 232mm x 108mm x 187mm (length, height, width)
FAST BRUSHLESS MOTOR
Brushless motors are much faster than standard ones. It comes with fully proportional forward and reverse electronic speed controller and hardened spur gear to handle the extra power.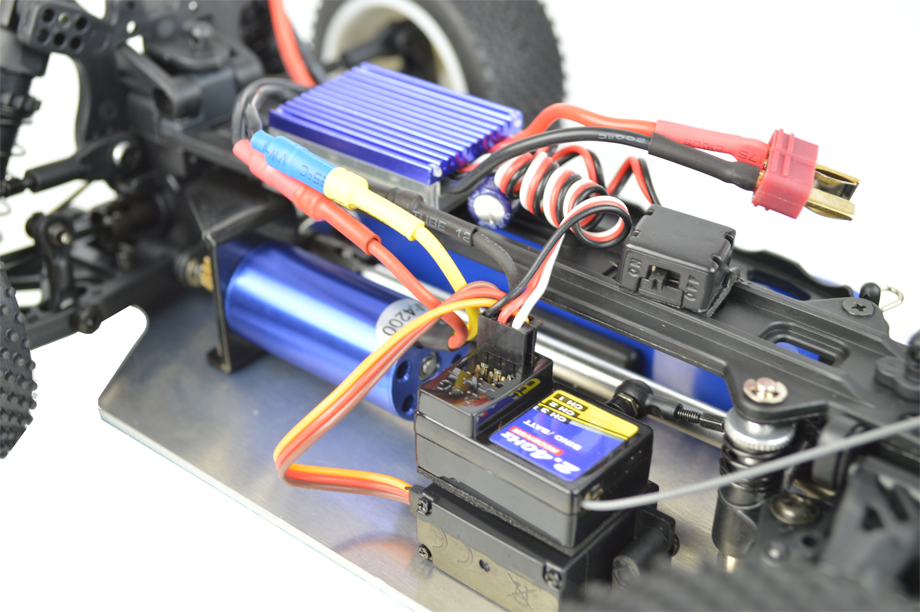 ALUMINIUM CENTRAL DRIVE SHAFT
The front and rear working differentials greatly improve handling. They are connected by a strong aluminium central drive shaft.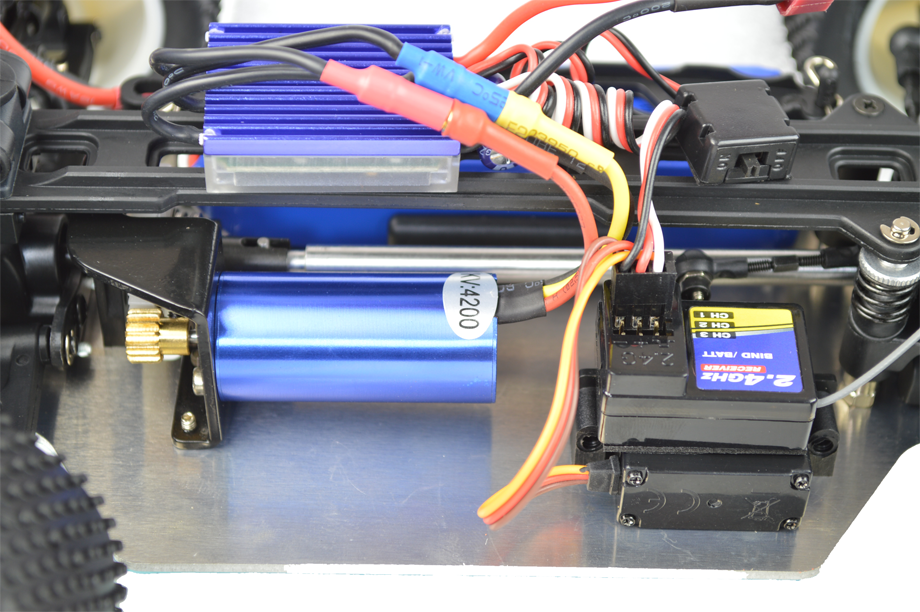 ADJUSTABLE SUSPENSION
Both the angle and tension of the oil filled shocks is adjustable.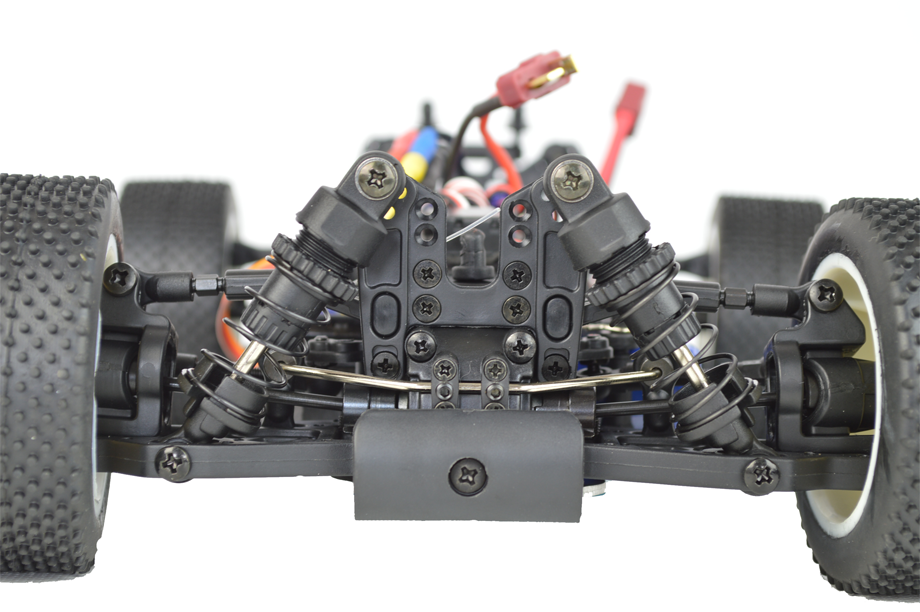 Additional Information
SKU
A2003T
Manufacturer
Acme-Tech
Model Scale
1:16
Build
RTR
Drive
4WD
For Terrain
On Road
Radio Equipment
2.4 GHz
Type
Buggy
Motor / Engine
Brushless
Specifications

Width: 187mm
Height: 108mm
Length: 232mm
Track: 126mm
Wheelbase: 177mm
Gear ratio: 10.86:1
Tyres: 70mm
Ground clearance: 18mm
Transmitter: 2.4Ghz radio set included

Features

Compleet gemonteerd klaar om te racen
Snel model - 70 + kp/h
Krachtige brushless motor
11.1v Li-Po batterij
voor / achter metalen diffs
Aluminium aandrijfassen
Sway bar als standaard
Verstelbare camber
verstelbare olie gevulde schokken
Zeer verstelbaar voor de race tuning
4WD cardan-as systeem
Slipper systeem
Aluminium chassis

Required To Use

4 x AAA Batteries for the radio transmitter
Questions:
There are no product questions yet.
You might also like...
SALE

SALE
31 customer reviews
GREAT BUT NOT STRONG

martinino April 15, 2014

By

very very very good but not good for street races. I've crashed mine 3 times in to curbs and every time at about 40mph so had to order new bits. finally spent out £40 and bought all the main upgrades for the car. advice for upgrades are: (type them in the search box on nitrotek)

30726
30727
30714

and get spare 30827 grub screws!

BUT, this car is very very strong, only reason i recommend the upgrades is that this thing is so quick it is going to break something at that speed. this car has a annoying thing that makes it accelerate when the remote is off, it does say in the manual to make sure that the remote is turned off last. over all a fantastic car, very quick off the line and stays fast, just do not crash it at this speed or turn off the remote before the car.

Brilliant

matt April 15, 2014

By

Its a brilliant speedy car yet if you smack it into a wall you might need to buy the upgrades

great little car

seb April 01, 2014

By

this car is unbelivably fast!! but could do with some upgrades!!!! type these SKU's into the nitrotek search bar: 30911, 30940, 30941, 30910, 30913, 30914, 30912 and finally 30956

Great

joe March 27, 2014

By

Like a Rocket ! highest speed 50mph


very gd

Alex March 13, 2014

By

this car is verry gd but i sugest u get some spare parts with it
© 2004-2019 Nitrotek Ltd. All Rights Reserved. Radio controlled nitro cars, offering petrol RC car, RC planes, RC tanks and remote control RC helicopter remote controlled cars selection.