Details
The Condor nitro radio controlled car is our entry level model and is the easiest way to get into the exciting hobby of model racing. Perfect for the beginner it features a simple gearbox, easy tune engine and easy layout which will allow you to be racing in no time.
Beginners soon become novices so the Condor has still been designed with performance in mind. With its strong alloy chassis, shaft driven 4WD system, steel clutch bell and sealed radio compartments it will tackle off road tracks as well as any other model. The Condor comes fully built with radio control included. Just add fuel and a glow start (optional extra available on this page) and prepare for some serious off road fun.
Each Acme Tech nitro radio controlled car now comes with a high quality .18 SH engine. SH engines are made in Taiwan and feature a simplified carb that makes them the easiest to start and most reliable engines on the market.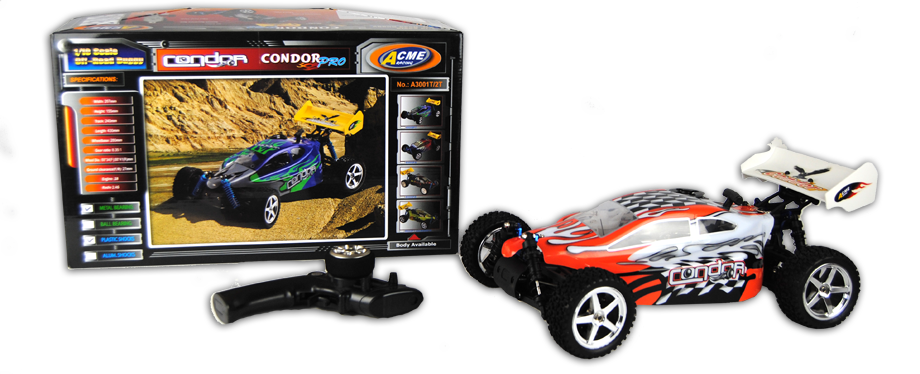 SOLID ALLOY CHASSIS
Strong chassis with countersunk screws for a flush surface.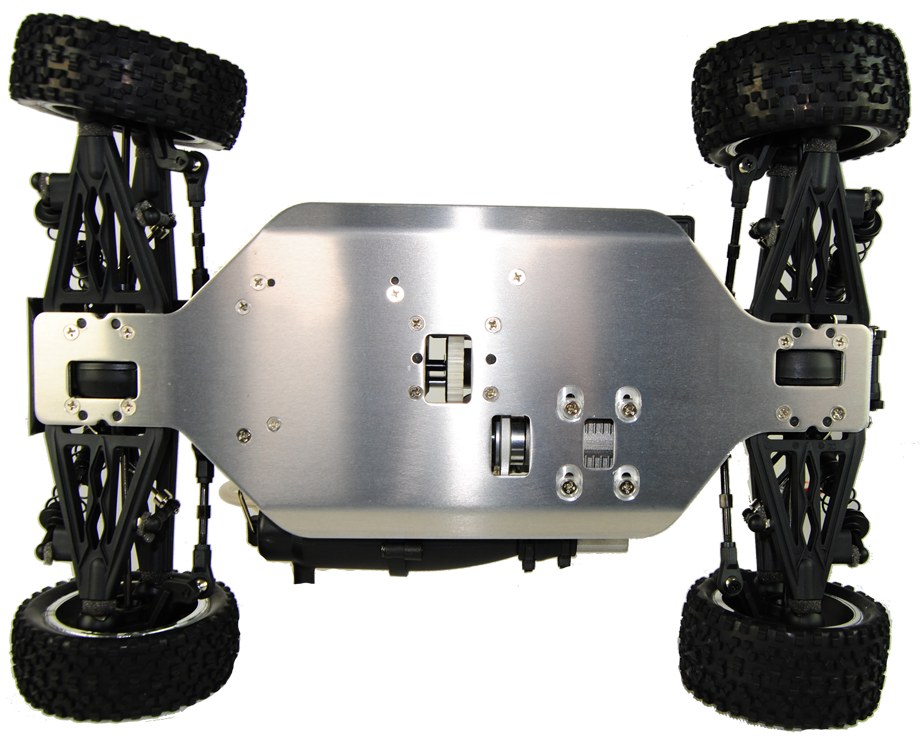 HARDENED SPUR GEAR
The spur gear has been upgraded to hardened Delrin to reduce the possibility of stripping.
4 WHEEL DRIVE SYSTEM
This model has a 4 Wheel Drive system with a strong aluminium drive shaft evenly transferring the power from the rear to the front. The 4WD system gives better grip for better handling. These hobby grade RC cars also feature working front and rear differentials that further improves handling.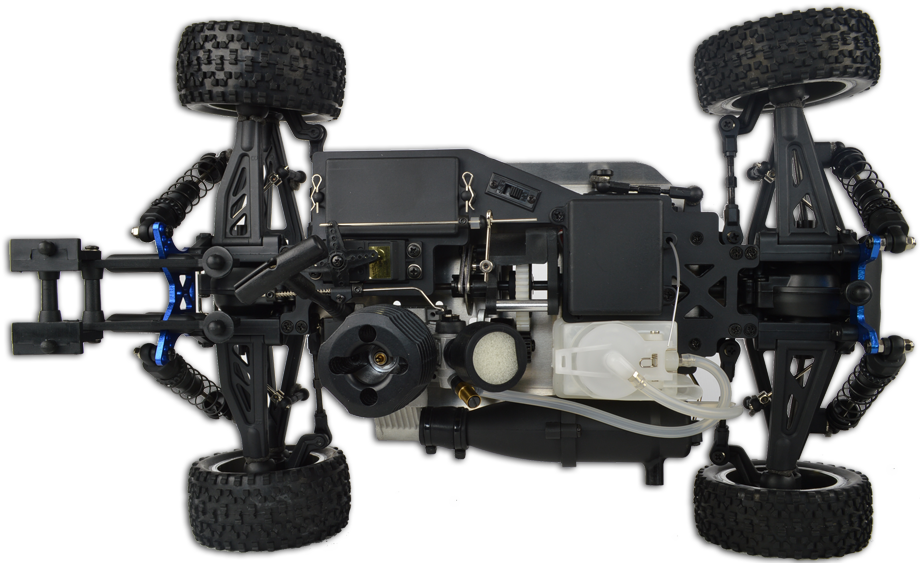 IMPACT RESISTANT WHEELS
Wrapped in high traction all terrain tyres.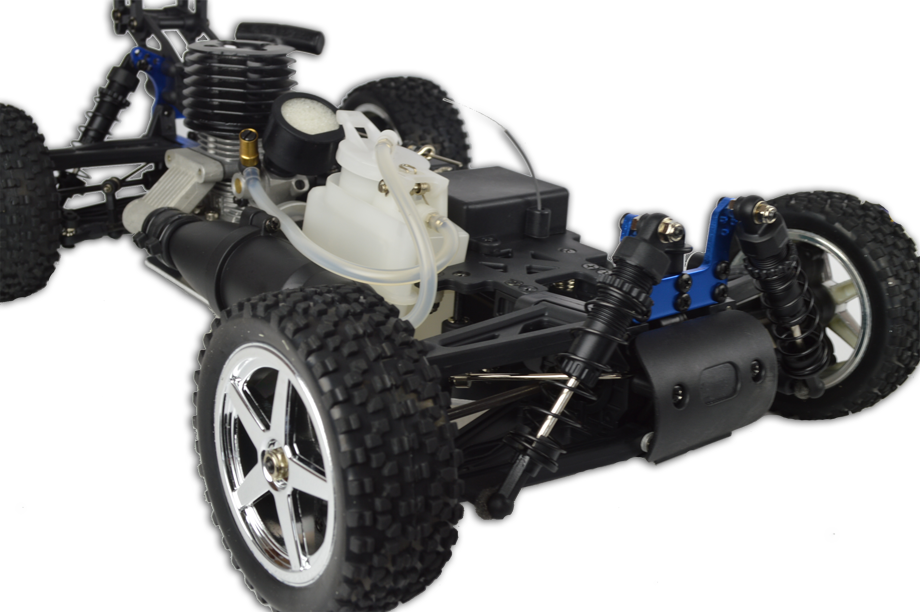 1:10th SCALE
This car measures 430mm x 155mm x 267mm (length, height, width).
ADJUSTABLE SUSPENSION SYSTEM
Adjustable aluminium capped oil-filled shocks are mounted to aluminium towers that allow you to adjust the angle and tension.
POWERFUL .18 ENGINE
SH 18 engine made in Taiwan to ensure the highest quality.
75cc FUEL TANK WITH SPLASH GUARD
Spend less time refueling and more time driving.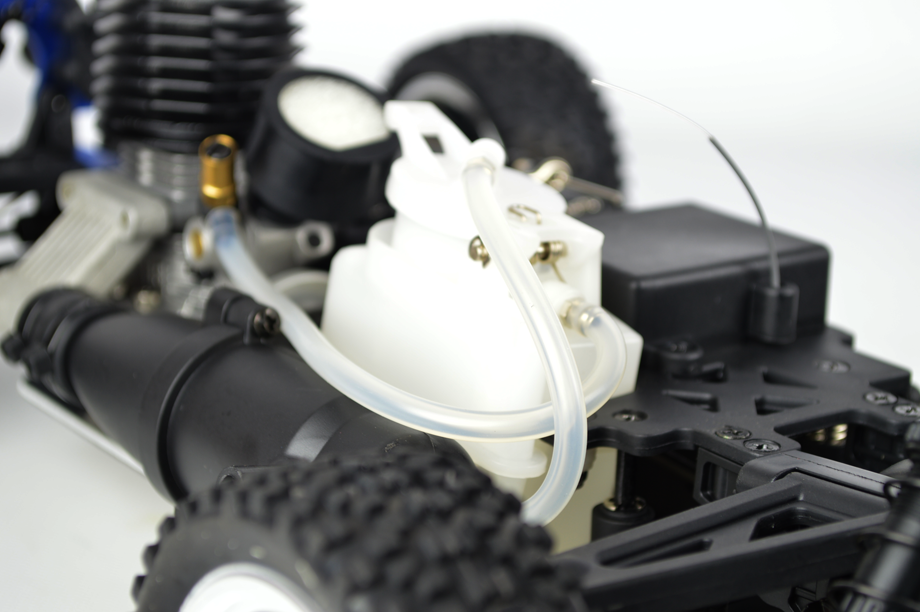 ALL NEW 2.4GHz RADIO TRANSMITTER
All new 2.4GHz radio technology is used. This is more reliable than the old FM equipment and allows multiple RC cars to be used in the same area without interference.

Additional Information
SKU
A3001T
Manufacturer
Acme-Tech
Model Scale
1:10
Build
RTR
Drive
4WD
For Terrain
Off Road
Radio Equipment
2.4 GHz
Type
Buggy
Motor / Engine
.18 Nitro
Specifications

Width: 267MM
Height: 155MM
Track: 240MM
Length: 430MM
Wheelbase: 280MM
Gear ratio: 8.35:1
Engine: SH .18
Wheel dia.: 88*34MM(FRONT); 88*41MM(REAR)
Ground clearance: 27MM

Features

1/10 Scale nitro radio controlled car
4WD Shaft drive system
SH powerful .18 pull start engine
Steel clutch bell for better durability
Oil-filled shocks
Single speed gear box
Front and rear bevel differentials
75CC Fuel tank
Metal disc brake system
Pre-painted and cut body shell
Sealed box for protecting receiver system

Required To Use

4 x AA Batteries
4 x AAA Batteries
Model Fuel
Glowstarter
Questions:
There are no product questions yet.
33 customer reviews
this is one sweet car

stewart August 17, 2018

By

just had the car a few days now checked all the electrical operations work well easy to pare hand set to car the car is of good construction it's going to get its first tank of fuel just to run in engine can I just say if anyone is thinking of getting a car like this for a child REMEMBER it's not a toy so for young children I would think need to be supervised but at the end of the day its SWEET

super cool !! génial !!!

jeff081 December 23, 2013

By

se produit est cool car moi qui as un champs a coté de cher moi je m'éclate trp avec c'est vraiment le bonne afaire car pour son prix c'est cool
!!!!!!!!!!!!!!!

Ce buggy est superbe à conduire, et très impréssionnant.il est vraiment cool !!

jeff December 18, 2013

By

j'adore ce produit, il occupe vraiment bien le temps quand on s'ennui. on peut faire des saut, il suffit d'un peu de bois et de clous pour faire un tramplein, ce truc est vraiment génial je le kiff grave !!!!!!!!!!!!!!!!!!!!!!!


I LOVE YOU "Condor buggy rc thermique.

to good

Jimmy December 12, 2013

By

this car is absolutely fantastic if your a begginer like me i find this car alot of fun with its great power and speed ive got 70 mph+ out of it Thanks Nitrotek

E muito bom

Rúben September 10, 2013

By

E um espetáculo quem vai guiar o carro e que vê o que anda.
© 2004-2020 Nitrotek Ltd. All Rights Reserved. Radio controlled nitro cars, offering petrol RC car, RC planes, RC tanks and remote control RC helicopter remote controlled cars selection.